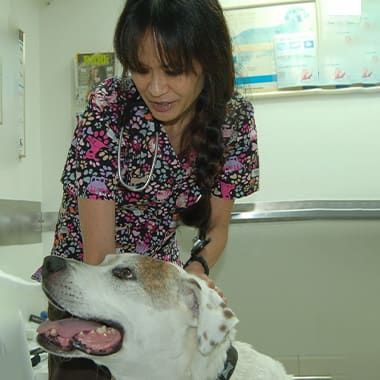 Dr. Ann Murata
Dr. Murata was originally born and raised in Honolulu, Hawaii.  She received a Bachelor of Science in Animal Science from the University of Hawaii and went on to receive a Doctor of Veterinary Medicine from Colorado State University.  After spending two years at a 24-hour practice in Hawaii, Murata came to California in 1991 and has been practicing here ever since.
She has had a special interest in the treatment of avian and exotic animals since graduation from veterinary school.  This interest has grown into a career specialization in the medical and surgical treatment of birds, small mammals, reptiles, and amphibians. 
As a member of the Association of Avian Veterinarians, Association of Reptile and Amphibian Veterinarians, and the Association of Exotic Mammal Veterinarians, Murata is actively involved in acquiring and implementing the latest diagnostic, treatment, and surgical methods available for these unique animals. 
She enjoys cooking, hiking, swimming, and taking care of her assortment of furred scaled, and feathered friends.
New Patients Welcome
Animal Hospital of Redondo Beach is accepting new patients! Our experienced vets are passionate about the health of Los Angeles County companion animals. Get in touch today to book your pet's first appointment.